eTail West Connect, an annual event where retail leaders come together to discuss and explore new solutions and ideas on shaping the future of the space… with all things digital being at the center of all key discussions. Two and half days of workshops, prospect meetings and industry sessions made it evident that cost optimization, increasing ROI and delivering outstanding personalization experiences was the focus at this year's event. This provided a great opportunity for us to introduce our social chat commerce solutions.
We opted for a more unique way of introducing our social chat commerce solution to retailers… having them actually experience it for themselves. We provided an interactive and fun experience that also showcases the capabilities of our social chat commerce solutions. It was safe to assume that after 2 full days of meetings, pitches, vendor presentations, etc.. no one was interested in another slide presentation or a typical SaaS demo. 
ZEALS.ai had the pleasure of sponsoring the cocktail reception on the second day of the event. Combining our brilliant conversation designers and AI capabilities, we created a custom automated social chat experience that enabled retailers to generate personalized drink recommendations in real-time, based on their chat interactions. Those who completed the chat experience were automatically entered into a fun raffle drawing for the chance to win one of 5 cool prizes, which included a 12 year old bottle of Yamazaki whisky.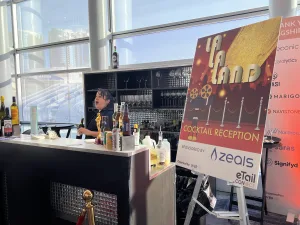 The social chat experience was fully integrated with our Instagram profile and can be triggered directly from a post, story and/or ad. This gave retailers the opportunity to experience the highly personalized engagement and shopping experiences they can potentially offer their customers through social media. In an actual retail experience, the drink recommendations will be replaced with personalized product recommendations and offers, directly pulled from the retailers' product catalog and custom promotions. Check out the social chat experience we provided at the event for yourself by scanning the QR code below (The Instagram app is required on your device).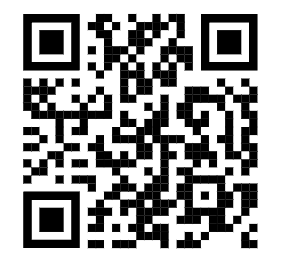 We're thrilled with the overall engagement and participation we received from the retailers at the events. We would also like to congratulate Christopher Yang, VP of Engineering at AWAY, for winning the grand prize, a 12 year old bottle of Yamazaki Whisky.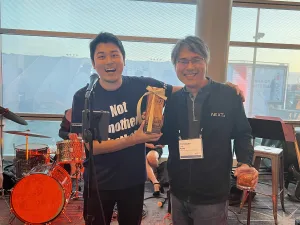 We were delighted with the overwhelmingly positive response received from the attendees at the event, which included marketing and tech leaders from brands like AWAY, Overstock.com, Patagonia, Hot Topic, Mattel, Sephora, and more. We are more than excited to be part of the eTial community, and look forward to helping shape the future of technology and customer experience solutions in the retail space.