ZEALS Co., Ltd. (referred to as  "ZEALS" hereafter), the leading Chat Commerce provider with a concept of "Omotenashi Revolution," has released "Chat Commerce ZEALS Instagram Direct," which allows companies to offer Chat Commerce on Instagram. ZEALS will collaborate with Sparty, Inc., which provides the personalized hair care product "MEDULLA," and will hold a joint Instagram live streaming event featuring Maki Goto on October 19th.
Background of the Release and Images of the Experience
Instagram is a popular social networking service used by 68.1% of people in their 20s and 55.6% of people in their 30s in Japan, with usage rates among all age groups rising for six consecutive years.*1 Approximately 90% of users follow business accounts, including brands, and two-thirds of them say that Instagram enables them to communicate with those brands.*2
Instagram has become an important marketing channel for companies to attract end-users to their websites and create loyal customers for their brands. However, there is currently no effective way for companies to respond to individual users' inquiries via Direct Message as they often receive a large volume of them. This leads to missed opportunities for customer engagement and customer service.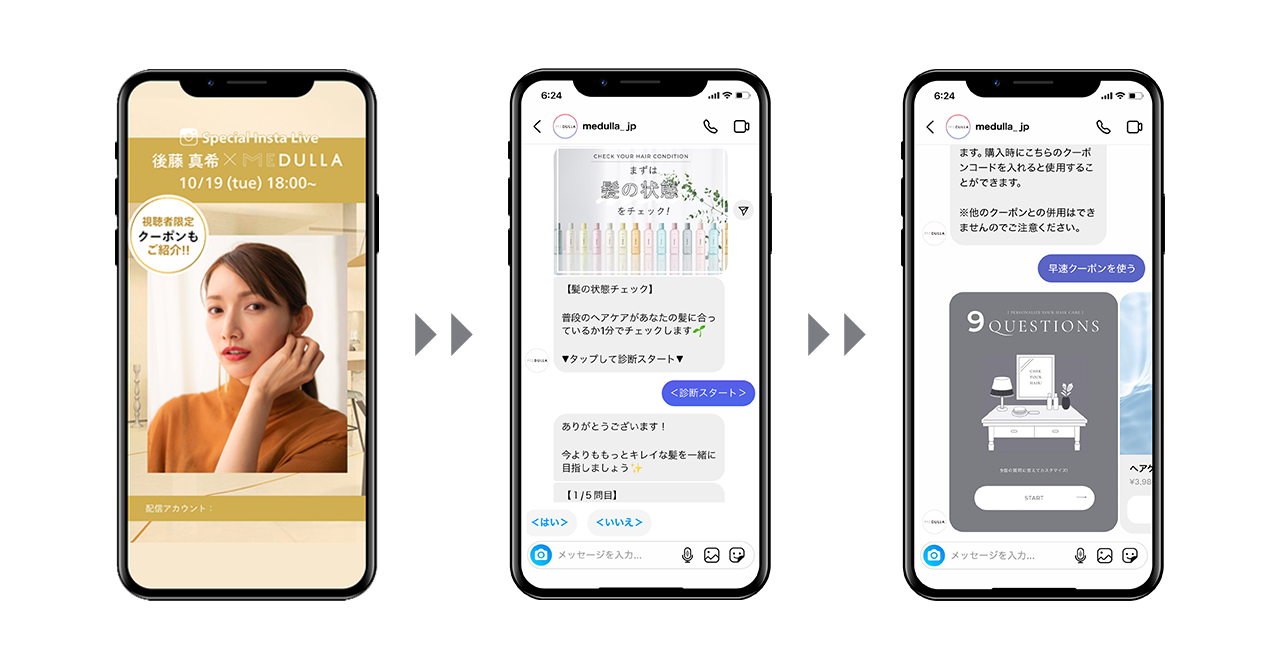 The recently launched "Chat Commerce ZEALS Instagram Direct" was developed to address the challenges faced by companies and brands running Instagram business accounts. As the first project with Sparty, we aim to combine Instagram live streaming with Chat Commerce to offer users an experience that extends beyond just viewing.
Instagram Live Details
Title: Special Insta Live Maki Goto x MEDULLA
Date & Time: Tuesday, October 19th, 18:00-
Distribution account:@medulla_jp
*1 https://www.soumu.go.jp/main_content/000765258.pdf
*2 https://business.instagram.com/
About MEDULLA
MEDULLA is a personalized hair care brand that offers customized hair care solutions through online consultations. The brand determines the best products for an individual's hair based on answers to a questionnaire about their hair and scalp. The resulting product set, including shampoo, repair, or out-of-bath care items, contains ingredients tailored to the individual's specific hair concerns. MEDULLA offers a subscription plan that allows users to receive a set of products with an improved formula based on feedback from dedicated stylists. The selection of scents that match the theme has been popular and the brand has acquired over 400,000 users *3 since its launch in May 2018.
*3 As of September 2021
Company Profile
Company Name: ZEALS Co., Ltd.
Website: https://zeals.co.jp/en/
Established: April 2014
Location: ARCO TOWER 6F, 1-8-1 Shimomeguro, Meguro-ku, Tokyo
CEO: Masahiro Shimizu
Company Profile
Company Name: Sparty Co., Ltd.
Website: https://sparty.jp/
Established: July 2017
Location: Ebisu Business Tower 4F, 1-19-1 Dogenzaka, Shibuya-ku, Tokyo
CEO: Yosuke Fukayama